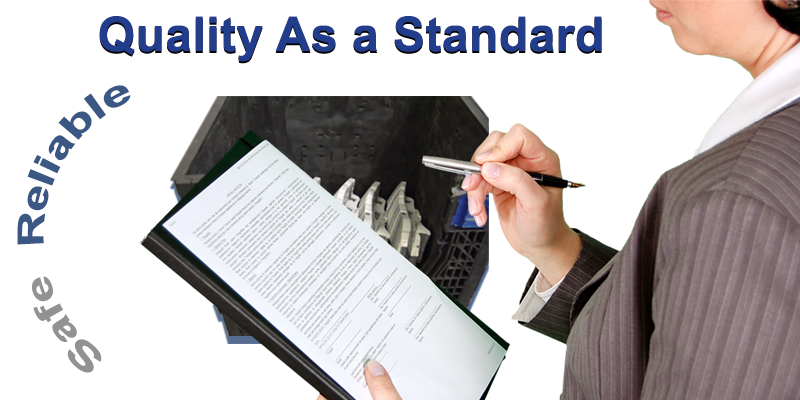 We at Dixien, LLC believe that quality is a culture. Our culture that is committed to continuous improvement supported by process-driven initiatives aimed at reducing defects, eliminating waste, and adding value. Our customers know that in entrusting their parts and components to our experienced team, they can count on dependable, reliable parts.
The Makings of a Good Part
We avoid short cuts at all costs. Our goal is to get it done right the first time. We fully understand the broad safety and legal implications for component failures in industrial and automotive systems. That's why we have developed a total quality management system that focuses on every aspect of the production process. At each stage of production, we conduct a series of assessments to guarantee the safety and reliability of each part produced. Conforming to the most exacting manufacturing standards has positioned us as a trusted tier 1 supplier to leading industrial brands.
Zero Defects, Excellence in Everything We Do
We work closely with our customers to develop a customized approach to our already robust quality system. Our internal quality system was developed with the goal of identifying areas to add value and improve efficiencies. In addition to our own quality system, we incorporate customer specific requirements. These may include basic requests but also more complex ones such as components of the VDA program.
Behind the Quality Mindset
Every team member assigned to your project undergoes rigorous training
Every program is run by a quality specialist with expertise in parts production
All parts and components are subject to review in accordance with ISO-TS standards
We are constantly working to continuously improve our processes and practices to support your forward-thinking, innovations. We are committed to providing you with dependable, reliable parts produced in one of our two ISO-certified manufacturing facilities.
Description
Manufacturer of automotive products seeks an experienced Electrician to help maintain and repair a variety of manufacturing equipment. Must have 5-7 years' experience with above. Experience with Presses and Welders is highly desirable. Position will include facilities maintenance and other related duties.
Requirements
Experience in similar positions is a must. No rookies will be considered. Must be willing to work well with others and be a self-starter. Benefits include paid annual vacation, medical, dental and life insurance and 401(k). Position is currently open, will be filled in next three weeks.
Send resumes to:>

lchenoweth

[at]

dixien [dot] com
.