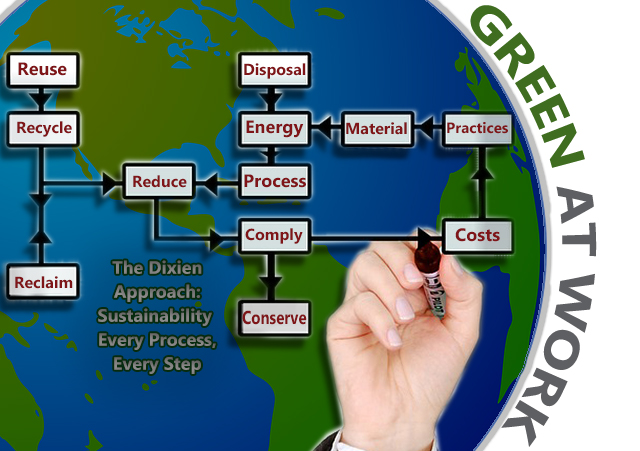 Dixien, LLC, a Leader in Sustainable Manufacturing
Sustainability in manufacturing has always been a priority for Dixien. Our goal is to grow responsibly while adopting sound, eco-friendly practices every step of the way. Dixien has implemented several programs over the years aimed at supporting its overarching goal of promoting sustainability in manufacturing. Focusing on lowering our carbon footprint while engaging opportunities to reduce our energy consumption across the board aligns with our broader goal of growing responsibly.
Eco-friendly Lighting Retrofitting Initiative
Dixien, LLC has devoted substantial resources to reducing its carbon footprint through its lighting upgrade program. Recently, the decision was made to launch a company-wide retrofit lighting upgrade program, in which eco-friendly LED lighting upgrades are performed at both locations. Once the ambitious endeavor is completed, our carbon footprint will be reduced by approximately 35 percent.
Capital Investments in Greener Technologies
Capital investments in new equipment support the needs of our diverse client base. Recent investments in newer technologies like the Sarac injection molding press enable us to produce precision-machined parts efficiently with less energy consumption. This capital investment alone reduces our energy consumption by 80 percent with every production run. Our company aims to continue to identify newer, efficient, state-of-the art equipment to produce the parts our commercial, automotive, industrial, equipment, and aerospace customers require.
Promoting Greener Practices Across the Board
We've also implemented employee incentive programs to foster a culture of green awareness within our company. Employees are rewarded for their submissions if their suggestions are implemented as a part of our sustainability program. In our manufacturing practices, we've installed a rainwater harvesting system that uses recycled, non-potable water for common industrial applications. The rainwater harvesting system lowers our energy consumption and furthers our long-term vision of implementing greener manufacturing practices in every possible area.
Implementing sustainable manufacturing practices lowers our carbon footprint. As a global supplier of machined parts and components, we remain committed to achieving excellence in sustainable manufacturing practices.
Conflict Minerals Statement